Profile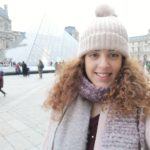 Ioanna Maria Pateli
About Me:

Hi everyone!! I am from Greece, 29 years old and I live in Dundee with my cat Kiki! I work as a researcher in the department of chemistry of University of St Andrews. When I don't work, I love to play with my cat, love to take a lot of photos with my camera and travel around Scotland and also watching a lot of movies and TV series.

My Typical Day:

My cat wakes me up at 7.30 am every day to feed her (she loves food). Then while I am making breakfast and some lunch to take with me when I go to work, I also play with her. Afterwards, I am eating my breakfast while also watching my favourite series "Downton Abbey". Around 8.15 am I am starting to get ready and then I kiss my cat (she is always sad when I leave the house) and I go to take the bus from Dundee to St Andrews (around 40 minutes journey). At 9.30 am I am at work, I am making a coffee, read my emails and then I go to the lab. The work in the lab is not the same everyday and this is what I love in science, it can be unpredicable. At 5.30 pm I leave the university to go back home to my Kiki. At home I have a bath, I call my parents in Greece and then I play with Kiki. After that, some days I read a book while having tea, or watch movies or hang out with friends.  The day ends with me falling asleep while Kiki is purring on my lap.

What I'd do with the prize money:

If I win the prize money, I would love to print some colouring books related to science and give them to schools near my area.

My CV

Education:

Between 2011-2016 I was studying in the School of Mining and Metallurgical Engineering of the National and Technical University of Athens in Greece. I finished my bachelor and master studies in October of 2016.

01/01/2017 I moved to the UK and specifically in Leicester to start my PhD studies (in other words to obtain my doctorate) at the University of Leicester. I stayed there for 3 years.

01/03/2020 I moved to Liverpool to start my first post-doctorate job (my first job as a proper researcher and not a student) at the University of Liverpool. I loved to Liverpool so much, it is a great city. I stayed there for 1 year and 7 months.

Then, I moved in Dundee to start my second post-doctorate job at the University of St Andrews, where I plan to stay as long as possible! It is a great university and very nice small city!

Qualifications:

In Greece, we have to take national exams at the end of high school in order to enroll to the university. After my national exams, I started my bachelor and master degrees in the National Technical University of Athens. Then I obtained my PhD from University of Leicester.

Work History:

Apart from my work as a researched in the various universities (University of Leicester, Liverpool and St Andrews), I have worked also as a private tutor to students of primary and high school in Greece. I was helping them with their homework and I was teaching them all kinds of subjects (maths, chemistry, literature etc).

I have also worked in the library cafe of the University of Leicester in the end of my studies to save some money until I finish my PhD studies. I loved it so much and I miss it even now. I was making all kind of coffees, I was making sure that the trays with cakes were full etc. I was taking a great satisfaction when people were enjoying their coffees that I had made.

Current Job:

Currently, I am working as a researcher. My main duties include the preparation of different kind of batteries (zinc-air, lithium ion etc). I work a lot with different kinds of microscopes (scanning electron and Raman microscope). These help me analyze my materials that I use in the battery and also help me to investigate why some batteries fail or some other work better. With the scanning electron microscope you magnify something up to 10000 times so you can see a particle that its size can be one nanometer on the surface – which is still magical to me as you can see a total different world with the eyes of the microscope.

I also supervise a project student to finish his project and thesis, which is an extraordinary experience for me.

My Interview

How would you describe yourself in 3 words?

cat-loving electrochemist

What did you want to be after you left school?

I wanted to be a researcher and work in a country different than Greece!

Were you ever in trouble at school?

Not as far as I remember. However, sometimes I was bored to go to school or do my homework. But this is natural, we don't have the same mood everyday!

Who is your favourite singer or band?

My favourite band of all times is Joy Division!

What's your favourite food?

My favourite food is pastitsio ( a greek dish).

If you had 3 wishes for yourself what would they be? - be honest!

I would love to be healthy, to build happy and fun memories and in some years to live in Greece in a nice house!

Tell us a joke.

What's the dullest element? Bohrium!
---
---
---
---