Profile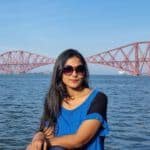 Richa Sharma
About Me:

I was born and raised in India, and now live in Edinburgh, UK. I work as a biomedical researcher and love travelling, reading, painting and crafting.

Read more

I was born in the culturally rich city of Kolkata in eastern India. After completing my M.Tech in Industrial Biotechnology from National Institute of Technology Karnataka I pursued my PhD at Central Food Technological Research Institute (CFTRI) with research fellowship from the Government of India. There I worked on the development of field-applicable, convenient biosensing strategies for real food samples. My research components include nanomaterials, aptamers, enzymes, chemical assays as well as optical and electrochemical methods of analysis. I was awarded the Newton-Bhabha International Fellowship in 2020 to carry out postdoctoral research with the Bradley group in the School of Chemistry, University of Edinburgh. I am presently working on imaging and targeted killing of microbial pathogens.

Read more

I began my research in India with the development of field-applicable, convenient biosensing strategies for real samples. For the purpose I have synthesized nanomaterials, studied their opto-physical properties and their interaction with biomolecules. In my PhD I developed several nucleotide aptamer-based, enzymatic, chemical and nanoparticle-based sensing techniques for food contaminants. I have explored aqueous two-phase systems for pre-concentration of analyte
and chemiluminescence, bioluminescence, plasmon resonance and fluorescence based optical techniques to detect target.

Currently I work on bacterial and fungal infections that pose serious threats to health. Specially, fungal infections are often fastidious and mis-diagnosed. Several antifungals are commercially available, however, they can create resistant microbes and display serious side effects. To combat such issues we require therapy that will only target and kill fungal cells without producing any effects on the patient and not drive resistance.
There is comparatively little research dedicated towards targeted therapy fungal infections as compared to bacterial infection or tumours. Therefore, the present work has been planned to develop biological molecules that will recognize and bind to fungal pathogens on the body, help detect the infection followed by the killing of the cells by illumination. The project is exciting due to the challenges in developing suitable probes, the generation of "killing entities" for fungal destruction and the performance of the method on
real tissues.
This work will introduce new therapeutic methods to the medical field and benefit society at large. Fungal infections are common in key organs, such as, the skin, nails, eyes and mucous membranes. I will target the development of a portable device even semi-trained personnel will be able to use to directed therapy and safely cure patients suffering from a range of such infections.

What I'd do with the prize money:

I would organize a public engagement event where young people can explore about their careers in STEM.
---
---
---
---